About us
Irina Chulkova
The founder of Moscow Navigator and a host of the website

I graduated as a teacher of foreign languages and have always enjoyed working with people and traveling. That is why in 2002 I joined Moscow Association of Guide-Interpreters to take a special course in guiding, history and art.
For over 10 years I have been working for such travel agencies as Monde sans Frontier (France, Paris), "Grand Circle Cruise Line" (Program Director), "Vantage" (Moscow Itinerary), "Vikings" (Moscow Itinerary), "Royal Caribbean" ("Jewels of the Seas"- north of Europe, "Brilliance of the Seas"-Mediterranean).
The experience I gained helped me and my colleagues to launch our travel agency Moscow Navigator.
Being keen travelers and explorers by nature, we value pre-planned itineraries and flexibility in choosing the tracks. That's why we offer this approach to our tourists. Our idea is to think globally, to ruin well-known stereotypes and prejudices and to help people to discover our country.
Kremlin license # 9990005890007 since 2002
Pavel Konakov
Eco-tours,hiking and camping tours, Russian heritage tours, ancient Russian cuisine
Pavel likes nature and camping , he is an reenactor of Finno Ugric and ancient Russian heritage of Moscow region and a Chef of ancient Russian cuisine.
He speaks good English, native Russian and is a member of international Esperanto club.
Elena Krivtsova
Host and editor of the website, Moscow tour guide, interpreter, teacher of English and Spanish.
I graduated from Moscow State University where I majored in English and Spanish. I've always been inspired a lot by history, art, literature. I took a course in guiding and became a tour guide. I enjoy my job very much as I find it exciting and intellectually stimulating.
Since 2005 I've worked for many travel companies as a local guide in Moscow, I've accompanied tourist groups in Russia, Baltic States, Poland and Czech Republic.
I'm currently conducting tours for English-speaking and Spanish-speaking visitors.
I'm in love with my city – Moscow – which is full of history, art and mysteries. I'm eager to "reveal" my city to you, let you feel the taste of it, find out about its traditions and about its long dramatic history. Kremlin license # 9990013560008 since 2005
Sergey and Ekaterina

Moscow is big and beautiful, but Russia is much bigger! I would like to show you the charming Russian country-side, the cute log-cabins the people still stay in, the architecture 300 years older, than any building in Moscow, and the way the provincial towns live.
The professional English-speaking guide, we will be very happy to show you the Russian country-side. If you see only Moscow and St Petersburg, you can not feel real Russia! Only in Suzdal you can see the traditional peasant-style loghuts with the beautiful window-frames, the wooden churches, 850-years old limestone cathedrals in Vladimir, the magnificent Volga-river in Yaroslavl and Kostroma! You have the unique chance to see how the ordinary people live now! Moscow looks very similar to any of the worlds largest cities, only in the country-side you can get to know about the real Russia! The tour to Suzdal from Moscow. The tour to Vladimir and Suzdal. The tours of the Golden Ring of Russia in 2 days, 3 days, 4 days.
Ready to help you with the accomodation, minivan service (pick you up in Moscow and arrange all the Golden Ring of Russia tour).
Sergey Okulov
Sergey Okulov- French speaking Moscow tour guide, professor of Russian history, writer, Russian-French interpreter.
Education: Moscow State University- PhD in Russian history.
Je m'appelle Sergeï Okulov. Je suis né à Boulogne-Billancourt et jusqu'à mes quatre ans, j'ai été un parfait petit parisien, bien que je rêvais déjà de Moscou. Mon rêмe a pu se réaliser dès la fin de la mission de mon père diplomate et voilà plus de cinquante ans que je profite pleinement de la beauté de ma si belle ville, avec ses quartiers tantôt bucolique, tantôt ultra-modernes, avec ses églises, ses cafés, ses monuments historiques, ses théâtres, ses artistes de rue et ses habitants. J'adore ma profession de guide car elle me donne la possibilité de partager cet amour de ma ville avec mes amis touristes. Je vous attends avec impatience.
Oksana Smagol – Chinese speaking guide, interpreter.
Education: History (Moscow State University, 2005), Art history (Moscow State University 2013), 2003-2004 – studied in China (SISU)
中文名字:删删 (Oksana Smagol) 莫斯科 的导游 语远: 汉语(普通话) 专业:历史(莫斯科大学,2005),艺术历史(莫斯科大学,2013), 中华人民共和国,上海外国语大学(2003-2004,交流学) 现在我作为研究生对西方国家艺术和建筑特别有兴趣。
English speaking Moscow tour guide, teacher of English, English-Russian interpreter.
Valeria Lee
English and Portuguese speaking licensed Moscow tour guide.
guide license since 2002
" I am happy to have a chance to show you how beautiful and charming our capital is. You will learn many new things about our life in interactive excursion in informal way. Let's discover Moscow together!"
Andrey Okunev – transport department

Andrey is in charge of driver services, transfers from/to airports/train stations.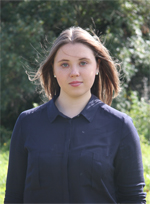 Kristina Kosheleva, a student of Moscow State Linguistic University, English-French faculty.
Being a student of foreign languages and working for MoscowNavigator I have the opportunity to practice my English and French. I like to conduct Matreshka (Russian wooden nesting dolls) painting classes, hosted home visits, and layover tours. I also do transfers from/to airports.
Sergey Kukushkin – our travel photographer

I am sincerely glad to welcome you to my favorite city, Moscow and to preserve unique moments of your visit to Russia!
I offer a 2 – hour photo session in the most iconic places in Moscow + a hard cover book with your photographs and a CD.
Elena Adrianova
Moscow licensed tour guide, teacher of English and French, Russian-English, Russian-French interpreter
Elena is also in charge of our back office in Paris. If you need any help or advice regarding your trip to Russia from France, she is the one to provide it.